We are a proud Active Member of the National Air Filtration Association (NAFA), the source for expertise, education and standards in air filtration. NAFA is a dynamic, non-profit trade association. NAFA members include air filter and component manufacturers, sales and service companies, and HVAC and indoor air quality professionals across the United States and internationally.
The NAFA mission statement is – "To conduct education and certification programs for members and end-user personnel; to provide forums for the exchange of information about technical standards, government regulations and product information; to educate end-users about the importance of air filtration and NAFA's certifications; to set field performance standards for products; and to explore ways to increase business for NAFA members."
Several IFS staff have travelled to the United States to study and gain accreditation as Certified Air Filter Specialists (CAFS) and NAFA Certified Technicians (NCT).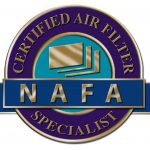 In response to the need for quality assurance, increased education and recognition of professional achievement within the industry, NAFA developed the NAFA Certified Air Filter Specialist (CAFS) program – the first education and certification program designed specifically for air filtration professionals. The CAFS program distinguishes those professionals who have demonstrated a through, up-to-date understanding of air filtration technology and a high level of professionalism. In order to become certified, air filtration professionals must pass an extensive examination on the principles, methods and applications of air filtration.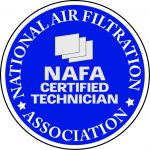 The objective of the NAFA Certified Technician Level 1 (NCT) program is to raise the professional standards of those engaged in the installation, operation and maintenance of air filtration systems on a daily basis.  It provides continuing education for air filter service technicians and awards special recognition to those individuals who have demonstrated a high level of proficiency in the air filtration service industry. The program also provides building owners, facility managers, mechanical contractors and the like with a list a qualified air filter service technicians.
IFS staff make regular return trips to the United States to attend NAFA Technical Seminars which provide delegates with the latest in HVAC air filtration information, application, new products and emerging technologies.
IFS conducts its business in accordance with the guidelines set out in the NAFA Code of Ethics.